Dr. Lou's Real Patients telling Real Stories
Dr. Lou Jacobs Acupuncture Specialist
In our Portland, Maine office, we perform both a western medical type of chiropractic acupuncture and traditional Chinese (chiropractic) Acupuncture. Western medical acupuncture for pain in the joints, spine, muscles and other areas. Traditional Chinese style for deeper issues of function like digestion, fertility, headaches, imbalance of energy, insomnia, anxiety.
Seasonal Allergies?
Allergy season blows.  If you have allergies, spring often brings more than flowers and rain. It brings flooding—of mucus from your nose and sinuses. Finding allergy relief in Portland is easier than you may think.  A scourge of headaches, chaffed nostrils, watery eyes, sneezing and bad sleep is no way to spend your spring. The good news is, there's something you likely haven't tried, and it has thousands of years of proven results. Acupuncture is a non-drug solution to allergies. With good reason. Traditional Chinese medicine and acupuncture have been used for centuries to acclimate the human body to seasonal changes
Headaches & Migraines 
Acupuncture is an absolute "must try" for anyone suffering from headaches or migraines. Whether it is migraines or those headaches that come every day on the drive home from work, there can be a cure that you just have not found yet. Taking medicine for your headaches all the time has proven to have its own risks—they can harm your internal organs, cause you to develop a dependency, build up a tolerance, etc. By taking the time to visit Dr. Lou who is a board-certified chiropractor and acupuncture specialist, you are offering yourself a safe and effective way to escape from your headaches.
Schedule your appointment with Dr. Lou today! Fill out our intake form and we will get back to you shortly!
Acupuncture New Client Intake Form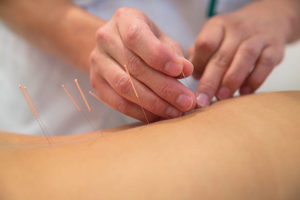 What Our Clients Are Saying About Acupuncture
"He cares about his patients and he steers you toward effective, alternative solutions. And DON'T BE AFRAID OF THE ACUPUNCTURE! I tried it for my allergies and it worked immediately. I don't suffer from them anymore. Dr. Lou's treatments are careful, thorough, and effective."
-Dave H.
What he's been able to do for my lower back pain has been wonders. I've had a paralyzing pain that has gone undiagnosed for years, initially happening periodically and leaving quickly, eventually lasting a week at a time. He's been able to reduce the intensity and frequency of its occurrence significantly. I even sprang for an adjustable bed because of its relief on my back, and I find that I need it less and less. I absolutely recommend him! He's incredibly personable and welcoming, as are his staff.
-Angela W.