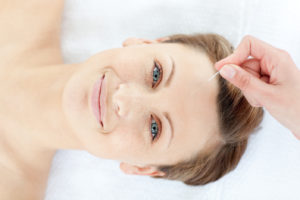 Acupuncture and Chinese Medicine have been around for 5,000 years. Effective and very low risk, Acupuncture and Chinese Medicine are widely used at our office to help you with conditions like migraine headaches, fibromyalgia and other pain, nausea associated with pregnancy and chemotherapy and a host of other conditions.
FACT: From 1993-1995, Dr. Lou lived in Beijing, China, learning Mandarin and Chinese cooking. His cooking instructor was also a master of Chinese Medicine and taught Dr. Lou the fundamentals through cooking.  In Chinese Medicine, food is medicine, and this was the beginning of Dr. Lou's education in Traditional Chinese Medicine (TCM). Watch the story below.
In our office, we perform both a western medical type of chiropractic acupuncture* and traditional Chinese (chiropractic) Acupuncture. Western medical acupuncture for pain in the joints, spine, muscles and other areas. Traditional Chinese style for deeper issues of function like digestion, fertility, headaches, imbalance of energy, insomnia, anxiety, increase in willpower, and the like.
Traditional Chinese Acupuncture is based on the concept of Qi. Qi is vital energy that flows through your body and becomes obstructed and disrupted when the body is under physical, mental or chemical stress. By removing obstruction of the flow of qi and by balancing the flow of energy in the body, health is restored with the application of Acupuncture. Acupuncture falls under the umbrella of Chinese Medicine.
Acupuncture needles at JCA are pre-packaged, single-use, sterile needles. They are the diameter of a hair and the insertion of the needles is painless.
Prior to beginning acupuncture care, an examination and significant interview with the doctor is performed in order to determine the best application of acupuncture. All acupuncture patients receive a comprehensive report of the doctor's findings on the second visit, but acupuncture treatment may begin on the first visit, after the examination process.
*Chiropractic Acupuncture" – The name used in the state of Maine for chiropractors who are specially licensed to perform acupuncture.
Call Dr. Lou Today (207) 774-6251, visit him at his Portland, Maine office, or fill out a form to schedule your appointment!